So, a week ago my mom and I placed an order from
RamenBox.com
. We put together a big 40-slot ramen box, placed the order, and waited. It arrived today just as I finished making some pasta for lunch, since for all the good comedic timing I tend to have, my practical timing is generally terrible. None the less, I was totally excited to have my big box of ramen finally in hand. After eating, I tore it open and this is what I found: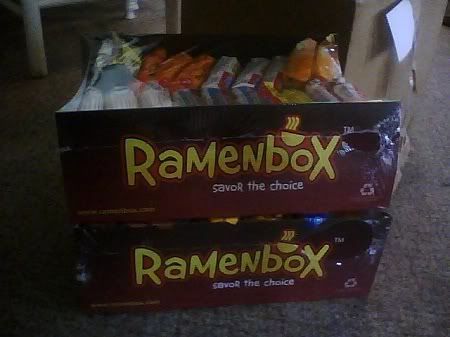 37 glorious packages of ramen (I had a few 2-slot items), 14 different types, all packed into two boxes. It's a truly beautiful thing. My lineup consists of the following:
- 3 Indomie Spicy Beef Ramen
- 3 KungFu Beef Ramen
- 4 Sappolo Ichiban Beef Ramen
- 4 Mama Pork Ramen
- 3 Indomie BBQ Chicken Ramen
- 2 Indomie chicken Curry Ramen
- 2 NongShim Spicy Chicken Ramen
- 4 Sapporo Ichiban Chowmein
- 3 NongShim Chapghetti
- 1 Paldo Bibim Men
- 1 Paldo Jja Jang Men
- 2 Vewong Peppered Beef Ramen
- 2 WuMu Garlic Sesame Oil Ramen
- 3 Indomie Fried Noodles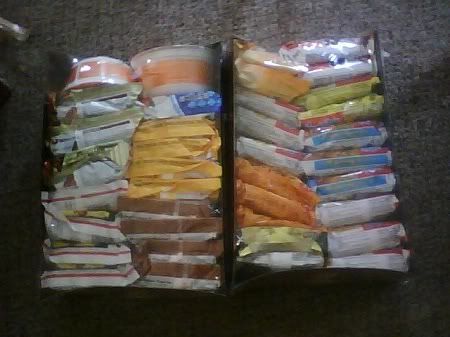 I've had a few of these before (like the Sapporo Ichiban beef and the NongShim Spicy chicken) since I have apretty diverse super market in my area, but I'm excited to try a bunch of new things. Especially some of the vegetarian options that I ordered.
Because the guys over at RamenBox.com are so cool, they also threw in a few sets of chopsticks, some chili sauce, and a pack of Tung-I Beef Flavored Instant Rice Noodles. These little extras and free noodles totally won me over, because I'm a sucker for extras. Way to snag yourselves a repeat customer guys.
So since I got a hold of something a little unexpected with my order, and I'm hungry, I'm going to write more about the Tung-I Beef Flavored Rice Noodles. I've never really done a food review so bear with me on this one.
So, prep on this is pretty standard fare. You've got your noodles, a pack of seasoning, and an oil packet. Three minutes in boiling water, and then add in the seasoning and eat. The rice noodles didn't absorb the seasoning very well, but they had a pretty nice texture to them. Even though the noodles didn't absorb it very well, the broth had a lot of flavor and held up to the texture of the noodles pretty well.
I'd definitely have it again, though next time I'd change a few things. I'd add the seasoning in at the beginning so the noodles could absorb it straight on, and I'd use a bit less water. I'dS also add that leftover steak in the fridge. Yum. Meat is always a good addition.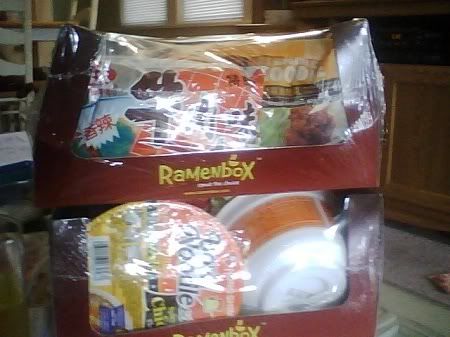 So all in all, if you like ramen, Ramenbox is a good deal! It'd probably cost you more to buy them all inidivitually, even if you factor in shipping. And it is run by some fantastic, friendly people, and when you order you might even get a little something extra! There's also their
free slots program
, where you can earn slots and eventually get a
free
box of ramen! So drop by and check it out. You most likely will not be disappointed. I know I wasn't.