So we didn't do anything
Otakon
related on Thursday, but it was a good day, so I'm going to shove it in with Friday's activities.
So Cass picked me up around 1, we grabbed Suri, and headed down to Baltimore. We stopped at a rest stop for lunch, and then headed down to
UMBC
, where we're staying in Cass's apartment on campus. We got ourselves settled in, and then headed over to the local Safeway to pick up some food/snacks for the weekend.
I made steak sautéed in olive oil (I am the most Italian), a box of white cheddar & broccoli Pasta-Roni, and a bag of frozen broccoli for dinner. Cass made a box of cupcakes for dessert. It was the most delicious. For those of you who didn't know, I absolutely love to cook. So getting to cook dinner for my friends (while wearing an awesome blue apron!) was great.
Suri played some Twilight Princess, I played some Cate West: The Velvet Keys, and we made a lot of jokes about mangos being 100 cents, Death Note's "Take this potato chip... AND EAT IT!!!", and various other things we all found funny over the course of the day. Just being out of the house is nice, and I enjoyed hanging around and just being kind of nerdy and awesome with two of the most important people in my life.
Friday rolled around and Cass dropped Suri and I off at the convention center. We picked up our badges and began heading around the convention. We met up with friends and took pictures of cosplayers until it was around time for a Q&A panel with Jerry Jewel, who voices Vino/Claire from "Baccano!".
The previous Q&A for
Todd Haberkorn
was still going on, so we sat in in the end of it and figured out that he voiced Firo from "Baccano!", which was pretty cool also. They are hilarious men, and will also be voicing Italy and Russia (respectively) in the dub of "
Axis Powers Hetalia
" with crazy accents. I've never been too into Hetalia, but I
do
love crazy accents so I may watch it just for that.
After that, Suri and I made a few round in the dealer's room and artist's alley to scout out things we might want to buy and what booths had the best prices. While doing that, we also found some of my favorite cosplayers of the day.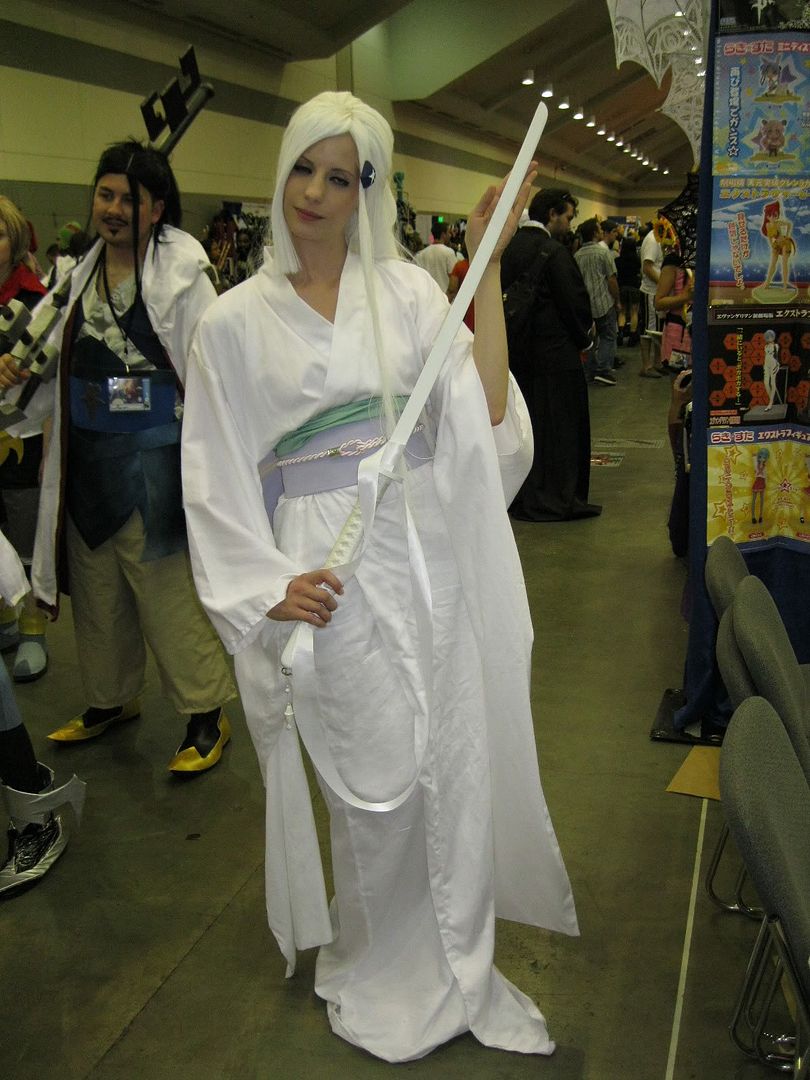 Once we'd made a few rounds, we went back and started buying things. I didn't figure there would be much I wanted, but I managed to find a good handful of Nia figures to buy, plus a few other little Bleach things that I couldn't resist.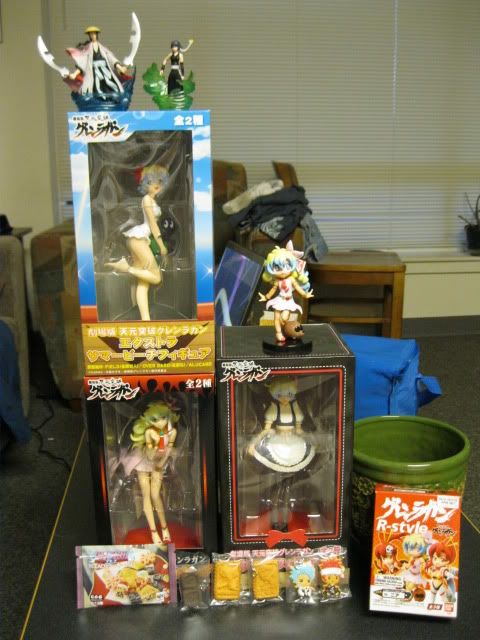 The "cookies" are actually zipper-pulls/keychains. They are really
really
cute. The "decorated" cookies are of Abarai Renji and Hitsugaya Toshiro, the two square cookies are of Kuchiki Byakuya and Hirako Shinji, and the chocolate cookies is just squares. I don't really know what it is. If I can find the booth again, I may buy a few more tomorrow and see what else I can get.
I also found this poster in the artist's alley. While making my rounds, there wasn't really a whole lot that I wanted. There were things at the tables of friends that I'd planned to pick up (and will go back for tomorrow since I didn't get to today), but there wasn't much I wanted to buy. Then I saw this Bakuman poster by
Rikyo
(of
Studio Painted Blade
), and just stopped dead in my tracks. He asked if I saw anything I liked, I pointed at it, and said "That." I paid the $10 for the poster and we had a brief conversation about how great Bakuman is.
After that we caught up with Cass and headed back to the apartment. I made chicken, corn, and chicken-flavored rice-a-roni for dinner, and now we're all hanging around unwinding after a full, very eventful day. Tomorrow we plan to take another spin around the dealer's room and the artist's alley and then see what happens.
All of our pictures from this weekend can be found
in this album on Photobucket
. It is full of
fantastic
cosplayers, so do go take a look!