I was a huge fan of Nick's "Avatar: The Last Airbender" in the years it ran. I watched it from day one right up to the finale. I feel it took a great stride toward making western animation into something more than just wacky brightly colored 11 minute jokes for kids (not that this is always a bad thing).
Time constraints and not actually getting Nick in mt dorm room for some reason caused me to miss a lot of season 3 when it first aired, but I marathoned what I hadn't seen with my best friend Cass leading up to the finale. I was incredibly satisfied with the ending of the series. There had always been rumors of a sequel that would explore things in the world's future, but I wasn't sure if it would ever come about.
But it's finally been announced.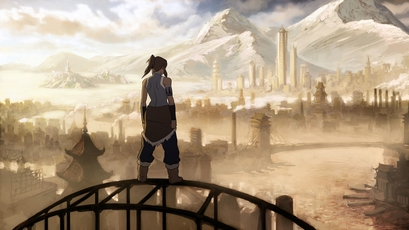 "The Legend of Korra takes place 70 years after the events of Avatar: The Last Airbender and follows the adventures of the Avatar after Aang – a passionate, rebellious, and fearless teenaged girl from the Southern Water Tribe named Korra. With three of the four elements under her belt (Earth, Water, and Fire), Korra seeks to master the final element, Air. Her quest leads her to the epicenter of the modern "Avatar" world, Republic City – a metropolis that is fueled by steampunk technology. It is a virtual melting pot where benders and non-benders from all nations live and thrive. However, Korra discovers that Republic City is plagued by crime as well as a growing anti-bending revolution that threatens to rip it apart. Under the tutelage of Aang's son, Tenzin, Korra begins her airbending training while dealing with the dangers at large."
- From ToonZone's article announcing the news.
I think the thing that I'm most psyched about is the fact that the central hero of the story is a girl this time. Though both Michael DiMartino and Bryan Konietzko, the creators of the series, are big Hayao Miyazaki fans, and he puts females as his central heroes very very frequently. But it's something uncommon in the west, and I'm really glad to see it. I also like that they're tying things in with "Last Airbender" by bringing in Aang's son. I'm just hoping there's a sweet-ass Earth Bender that I can get excited over, since the Earth Kindgom and it's citizens were always my favorite.
"Avatar: The Legend of Korra" (which is still a working title) is set to start airing in 2011, and I am eagerly looking forward to it. I'm hoping that it's going to start airing in the summer or late spring so that I'm done with school when it airs so that I can follow it.